Master the 2019 tacky holiday sweater Christmas cards
Ugly sweater Christmas cards can be fun and funny and they can be a great keepsake that you can look back on fondly. But people make a lot of mistakes ordering holiday cards and adding an ugly sweater theme adds a few more complications.
Select your ugly Christmas sweaters first
There are a few ways to go with this. Everyone can select matching, complimentary or completely unrelated designs.
Start off by selecting a general tone (dirty, sarcastic, cute, vintage, sweet, couples, etc.)
Matching vs. Complimentary Designs
Matching sweaters are funny because the added joke it that you are lame enough to dress the same. It does show a good sense of humor and is a classic way to go. Because you have to find a design everyone likes and which is cost effective enough for your budget and available in the sizes you need this requires the most lead time.
If you plan to rewear them, which is highly likely, you have to decide if you actually want to wear the matching sweaters to events or not. These will be the most memorable for people who got your ugly Sweater Christmas Cards.
Complimentary sweaters share a theme (Santa, Trump, snowmen, ornaments attached, etc.) but they are not matching. This can work but requires more work because again you have now have to get everyone to make individual choices. If there are two of you then see our listing of couple's sweaters for help here.
Unrelated sweaters are easier because everyone has to make an individual decision but they can get whatever they want.
Plan and order starting in early November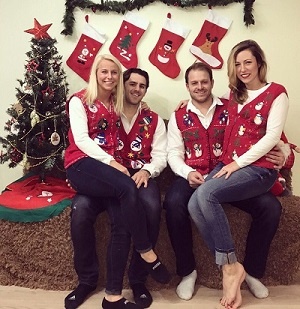 You should be planning and starting on your cards in early November. The procrastinator in you may be thinking you are so efficient and organized that it won't take this long. Here is why you need to start so early.
Most likely you are going to order new sweaters and take some new pictures for the cards instead of reusing something people have already seen.
If you all want matching sweaters you need to be able to select a design and make sure that you can get everyone's design, color and size in time. Allow a week or more to get the cheapest shipping on the sweaters. Pull some decorations out
It used to take a lot longer but with faster printing, automated and self help website and cheaper shipping options you can get things the same week in most cases. You still should order early. Orders can occasionally come with errors, get lost, damaged or stolen. Assume the worst so add 4 weeks total.
Since you will be mailing the cards during the busiest time of the year you want them to go out a week before you hope for delivery. Assume you want them delivered by mid-December that means you
Pick a greeting
In our opinion, the ugly Christmas sweater joke plays best if the rest of the elements of the card are played straight. So in this case, simply include a sincere and classic holiday greeting in the text of the card. You can get snarky but before you go with naughty or dirty text just remember who is going to get them and who will see them.
Take a great picture
The picture is the centerpiece of ugly sweater Christmas cards. A tacky picture of ugly Christmas sweaters is a bit too on the nose. Play it straight with a high quality picture. It makes it seem like you were taking the sweaters seriously which makes it funnier.
Consider a professional photographer if you can swing it. They will have the best lighting and will often have holiday props and backgrounds so you don't have to pull out decorations early. If you don't want to do this then have a friend take one, preferably with a camera. You can take great pictures with phones of course but not everyone does.
Take them at the highest resolution possible. Print takes a higher resolution than the web bit the files are larger so sometimes people change the settings on their phones and cameras to lower resolution. Low resolution pictures for the web don't look good printed. Take print quality resolution pictures and then you can edit them down for the web. Social media sites like Facebook will do this automatically.
Resist the urge to share – at first
Don't post the pictures on the internet or share them any other way until you are sure people have received them. You don't want the surprise ruined.
Choose your printer and paper
There are several online resources that do good work. Shutterfly, Vistaprint and TinyPrints l seem to do good work. They also have a lot of templates and options for layouts and good self-help tools. There are horror stories but if you take a good picture and order early you should be able to whether any problems.
Good paper is worth the upgrade to a price. Matte paper is better for illustrations so stick with glossy paper. Premium 16pt. paper is good for holiday picture cards. Order your envelopes at the same time. Don't try to match envelopes from a different source. It isn't worth it. Don't waste money on expensive envelopes. That is for bridal showers and weddings. Your will be thrown out.
DIY Budget Ugly Christmas Cards
If you want to keep costs low you can take the pictures yourself, have them printed or even print them at home and even just slide them into card stock.
Warning, most home printers are not up to the task of printing large numbers of photos and you will go through a lot of expensive ink. At least consider getting the photos printed at a local print shop or Kinkos UPS type store.
Ugly Sweater Card Mailing tips
People tend to underestimate the cost of postage and how long it takes for cards to be delivered.
A first-class stamp is currently $.55 so 100 cards is $110 just in postage. Maybe look that list over twice. Buy holiday stamps on Amazon and save yourself the trip to the post office. Amazon doesn't mark them up and they have a good selection.
You don't want to by applying stamps in a crowded post office. Then mail them from a post office.
Do not mail them from your house. You do not want to risk them getting damaged, lost or stolen. Make sure you are using forever stamps so you have the right amount of postage.
Hopefully your ugly sweater Christmas cards come out exactly as you like. If you have suggestions or tips of your own. Please send them and let us know. If you send us your cards we will share them in all their glory with the world.