From Silly to Naughty, These 3D Sweaters A Fun Attention Getters
A 3D Ugly Christmas Sweater helps you to bring a little more to the party. Like a light up Christmas sweater, they get a lot of attention and are great conversation starters. They also give you a great shot at winning an ugly Christmas sweater contest.
Stuffed Animal 3D Sweater
3D Sweaters have something fun attached to them. Stuffed animals are the most popular. They are cute, soft and fun and get attention anywhere you go.
This moose sweater is the exact one that Kelly Ripa and Michael Strahan wore on Live! With Kelly and Michael. It is a great choice. It has two pieces attached to the front and back of the sweater. The moose has a fuzzy body, a cute tail on the back piece and adorable stuffed antlers.
There are plenty of choices here if moose isn't your spirit animal. Check out this t-rex stuffed animal sweater for another great alternative.
Fidget Spinner 3D Sweaters
We gave two examples here but there are more. It's all about the placement of the fidget spinner and some have them built into a character like this reindeer with a fidget spinner nose or into illustrations of Christmas decorations.
The first fidget spinner sweater pictured on the right is a bit naughty because it has two spinners placed on the chest. This comes in man's and women's sizes too by the way.
A little farther down the page is another one. If you look closely at the women's Christmas tree sweater you will see that the star on top has a fidget spinner on it.
Working Jack In the Box
The third picture on the right has an actual working Jack in The Box attached to is. It is a little awkward walking around with something so solid attached to the front of the sweater but it is light and it really does pop up.
The Cutest 3D Sweater
What's your choice for the cutest 3D Sweater? We always like the plush stuffed animal ones but choose for yourselves.
If you didn't see what you are looking for then consider a really inappropriate ugly sweater.
If that isn't for you then consider a Elf Movie Sweater, Christmas Vacation Christmas sweater, or these Star Wars ugly sweaters.
Animal Christmas Sweater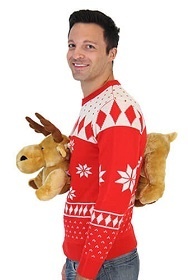 Naughty Fidget Spinner 3D Sweater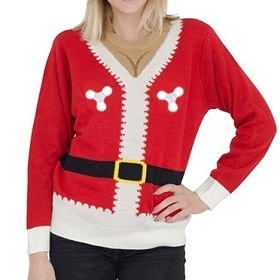 Jack In The Box Sweater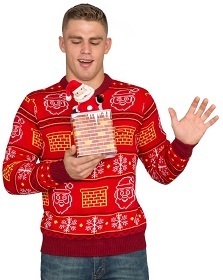 Christmas Tree Fidget Spinner Sweater