A Christmas Story Sweater is instantly recognizable. Our list covers many of the great moments. From the old man's major award, the leg lamp sweater to "you'll shoot your eye out" there is no end of memorable moments that will get people smiling.
If you like this check out our A Nightmare Before Christmas sweaters, Christmas Vacation Sweaters and Ralphie's Pink NIghtmare Bunny Pajamas.
Leg Lamp Sweater
The old man just wanted to feel like a winner. So when he learns he about to receive a major award he is really excited.
We couldn't pick just one so click the one you prefer or check out this list and choose for yourself. This is just the best A Christmas Story Sweater.
Bunny Pajamas
You have two ways to go with this. You can get this sweatshirt showing Ralphie wearing his gift from Aunt Clara or you can dive right in and go FULL Christmas and buy the actual, wearable Pink Nightmare Bunny Pajamas.
These are available i mens and womens sizes and com with detachable footies with bunny faces and even hoodies. Spectacular.
Oh Fudge Christmas Sweater
Ralphie! Where did you hear that word?
This is a funny, ugly Christmas sweater. One of the classic moments is when Ralphie is helping the old man change the tire and loses the wheel nuts. He lets out an F-bomb which this family friendly movie substitutes with Oh Fudge. Hilarity ensues. Poor Schwartz.
You'll Shoot Your Eye Out Toddler Shirt
You'll Shoot Your Eye Out Shirt for toddlers is also available in 2T to 5T but also kids and adult sizes.
Fragile Leg Lamp Ugly Christmas Sweater
Leg Lamp Sweater
We couldn't pick a favorite Leg Lamp Sweater. Here's a second one. It must be Italian. See, Fragiiiillee
A Pink Nightmare Bunny Pajamas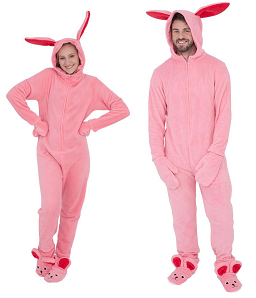 Yes, you can actually buy and wear these. Check out our article on these Pink Nightmare Bunny Pajamas.
Oh Fudge Christmas Sweater